Horsing Around: Baby Storybook and Memory Book
Hardcover Prototype Video
The following video showcases the hardcover prototype version of the book. The Softcover Edition has improved layout and additional pages. If you have trouble viewing the embeded video, you can find it on YouTube.
Horsing Around Gallery
About Horsing Around
The Idea
"In 2011 I created the first Horsing Around Art Print Series for my friend Kaća's baby shower. I wrote a story, poem, or lullaby to go with each print, and bound them by hand into a small hardcover book with baby's characteristics (baby's eye color, hair color, first word, etc.) to be filled in after the stories.
She loved the gift. Her friends loved the gift and asked me where they could get one.
Horsing Around Series convinced me that I should stop being afraid of failure. In November of 2011, I registered Mili Fay Art as a business, rolled back my sleeves, and got to work.
I saw how over time this series can not only entertain and decorate, but: it can raise money for children's hospitals; if my career takes off, it can pay for the child's education down the line; it can stimulate creativity; and can even be used to educate the child about savings and social responsibilities."
— Mili Fay
Horsing Around Limited Edition Art Prints
I paint the artwork for each Horsing Around Art Print traditionally, using acrylic ink and watercolor paint on hot-pressed watercolor paper. The artwork is scanned, digitally edited, and laser printed to fit a standard frame size: 10" x 8", 7" x 5", 5" x 7", and 3 times 6" x 4" (for the print series). The paper used is glossy 80 lb (300 g/m2) photo paper.
Every print comes with an original short story, poem, or lullaby, laser printed on 28 lb (105 g/m2) brilliant white paper.
Each print is Limited Edition —the usual limit is 300 prints/artwork — and comes with a Certificate of Authenticity signed by the artist. Note: Limited Edition prints tend to increase in value over time.
Prints can be purchased individually or as a set. They come loose in protective plastic sheets that can be added to a binder. Therefore, each child can continue to draw and/or write their own stories, collect the prints, and build a book of their very own. Since the prints fit standard frame sizes, they can easily be swapped to create a change in decoration. (This is especially useful for holiday prints.)
Children can be taught to save. They can be encouraged to add change to a jar, until they can afford to purchase a new print. In addition they can learn about social responsibility, because $5 from each print and $10 from each print series (ex. First Kiss) will be donated to a local children's hospital.
Fundraising*
Mili Fay Art is not affiliated with any charitable organization. I collects the money and distributes it directly to the local children's hospital, or their established charity.
Each time a print is shipped, $5 (or $10 from a print series) is placed into a pot with the location's name. Once the pot reaches $250 a donation is made to the children's hospital (or ward) at that location. If a city or town is too small to collet a $250 pot, once these small pots collectively reach $250 a donation is made to UNICEF.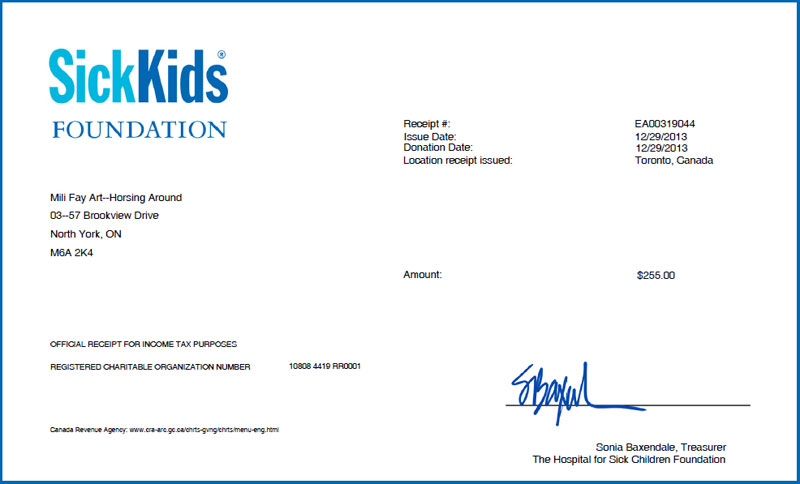 If you have any questions regarding Horsing Around Limited Edition Art Print Series, please do not hesitate to contact Mili Fay Art.
Mili Fay | January 29, 2019
* Update: Due to my other obligations this project has been on hold for some time. I hope to continue working on this series in the future.