Now available from Amazon:
31 Days of Traditional Ink and Marker Sketches! The Artist's Edition includes The Process and over $300 worth of Downloadable Art Prints — Print Size: 8 x 10 up to 16 x 20. Click on the images for more information about these kindle books.
MERMAY 2017 GALLERY
© 2017 MILI FAY ART
Art Prints and Original Sketches are available for sale. If interested, please contact Mili Fay Art.
About MerMay 2017
For MerMay 2017 I've decided to hold a contest on Instagram. I posted a sketch completed with Pilot G-TEC-C4 black pen, Pantone TRIA Markers (which are apparently extinct), and a white gel pen of myself as a mermaid for May 1st 2017. The first person who commented, sharing their favorite sea creature, won: an Original Character (OC) design of themselves as a mermaid or merman as that sea creature; a 600ppi full-resolution image for their personal use (PDF and JPEG formats); a 950 px wide image for sharing online; a Mili Fay Art Copyright License; and a Kindle Sketchbook of all the art.
I posted the winner's sketch the next day, and so the contest continued.
The Drawing Process
It truly was a challenge. Because it was a daily contest, I did not have much time to experiment with character designs. I would think about possible characters, before I went to sleep, then the next day, I would do some research, before drawing. Every image started out as a tiny thumbnail sketch (maybe 1″ or 2″ in size) that helped me figure out the composition.
Then, I sketched a bigger version of the pose using a col-erase blue pencil.
Sometimes I did not like the sketch, so I drew another one. I made sure the winner's features were visible. I love drawing real people!
The next step was to clean up the sketch with the pen.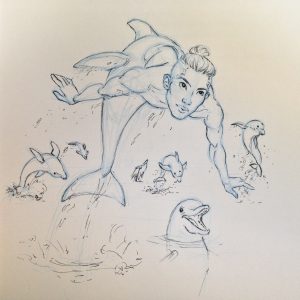 After waiting half an hour or more for the pen to dry, I carefully erased the col-erase pencil lines. Sometimes, I was not careful enough and there were some ink smudges, but that is the beauty of traditional art — perfect in its imperfections.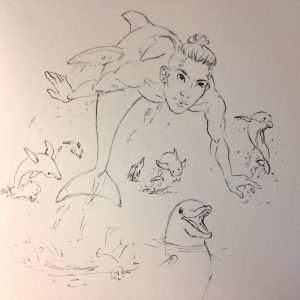 Finally, I used my old Pantone TRIA Markers to add color and tone to the image.
Most winners' sketches took between 3h – 5h. The downside of all the drawing is that my tendons started acting up again. I highly recommend using the brace shown in the following image if you know you'll be working a lot. It really helped — that, and my sister's advice on doing some wrist exercises. (She's a physio.)
What I loved best about Tom Bancroft's MerMay Challenge and my contest was: meeting new people, discovering new creatures, and traditionally creating something beautiful every single day.
I've enjoyed the even to much that I continued it by creating MythoJuly 2017.
Cheers!
Mili Fay
Toronto | January 30, 2019