NOW AVAILABLE ON AMAZON
As of November 2017, you can also purchase the 2nd Edition print-on-demand version of this sketchbook. The 2nd Editions includes a few more pages of additional art in full color, created during the Sketchbook Launch Event.
SKETCHBOOK SAMPLE GALLERY
©  2016-2017 MILI FAY ART
When I'm asked: "What project would you create if you had all the money in the world?" I answer that I dream of one day producing and directing The Phantom of the Opera as a classically animated feature film. A film that:
matches (if not surpasses) the artwork quality of Disney's Sleeping Beauty,
is based on Gaston Leroux's wonderful novel,
and is enriched with Andrew Lloyd Webber's beautiful music.
I've been working on this feature film inside my head for most of my life. Finally, for Inktober 2016 (my first Inktober Challenge), I decided to reveal some of these ideas as sketches.
The Phantom of the Opera Inktober 2016 Sketchbook includes these sketches, as well as a few extra images I created of the final scenes sequence to bring the story to its natural conclusion. Most of the sketches were created traditionally with black ink; however, there are a few completed with Pantone markers. Please note that the sketches that follow a scene sequence are not storyboard sketches, but idea thumbnails; as I was sketching, I was concentrating on drawing the story instead of worrying about framing, lighting, setting the scenes, and choosing appropriate camera angles.
At the end of the sketchbook, there are some pages featuring digital artwork drawn on a Cintiq Companion that lead to the ink and watercolour painting of the cover art.
A fun feature made possible by the digital technology is the pop-up notes; by double-tapping (or clicking) on the small written text, you can enlarge it to make it easier to read on your phone, tablet, or computer; by double-tapping the Small Phantom Masks (see below), you will reveal extra notes about the story, or the project.
Though I love Gaston Leroux's novel, and Andrew Lloyd Webbers musical, this sketchbook is about my version of The Phantom of the Opera, so do not be surprised by images of scenes you have never seen before.
The Phantom of the Opera Inktober 2016 Sketchbook: Artist's Edition is also available from Amazon. By purchasing this edition, you will be able to download and print all the drawings from the Sketchbook.
THE BOOK LAUNCH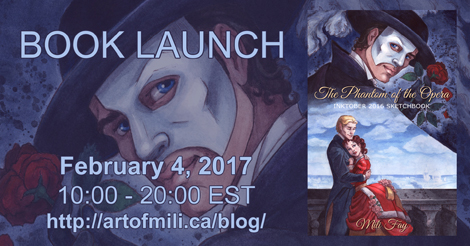 The Sketchbook Launch Event was a lot of fun thanks to artists and people who've showed up. I feared I may be hearing online crickets, but it was not so. We had conversations and I created more artwork on the spot. It was terrifying! 😉
You can see everything that happened during launch at this blog post.
Thank you for reading.
Mili Fay
Toronto, ON, Canada
December 4, 2017