Warriors of Virtue is an epic YA fantasy series about a reluctant princess who grows into a Queen as she defends the land of Ardan from dragon-people.
Book I: Episodes 1-9
From back cover copy:
She is a freak with a tiara, why not become a freak with a sword? According to the most reliable source that Princess Lauraliee Lumijer knows, Cornelian — her tutor and the greatest wizard in the Land of Ardan — Dragon-Lord Malachite Pendragon has done the impossible: returned from the dead. Lauraliee feels she has no choice, but to join her soul with an Elemental Spirit and become a Warrior of Virtue alongside her cousin and sister. Wielding the powers of water, fire, and air they must retrieve and destroy Malachite's Blood Ruby, before he uses its dark magic to regain full strength.
Can three pampered teenagers survive the wilderness of Ardan long enough to prevent a war? More importantly, can they keep their mission a secret from Queen Dragana, Lauraliee's overprotective mother?
Despite all the evidence to the contrary, Diamond Pendragon believed his father was still alive. As Crown Prince, he kept his people safe in a hermit kingdom for nearly a hundred and fifty years. Now, his father is back from the dead, ready to take the throne and rid the Land of Ardan of the parasitic humans once and for all.
Is war the only answer? Are humans truly the pests his father believes they are?
---
NOW AVAILABLE FROM AMAZON
Text Edition
Artist's Edition
DOWNLOAD SAMPLE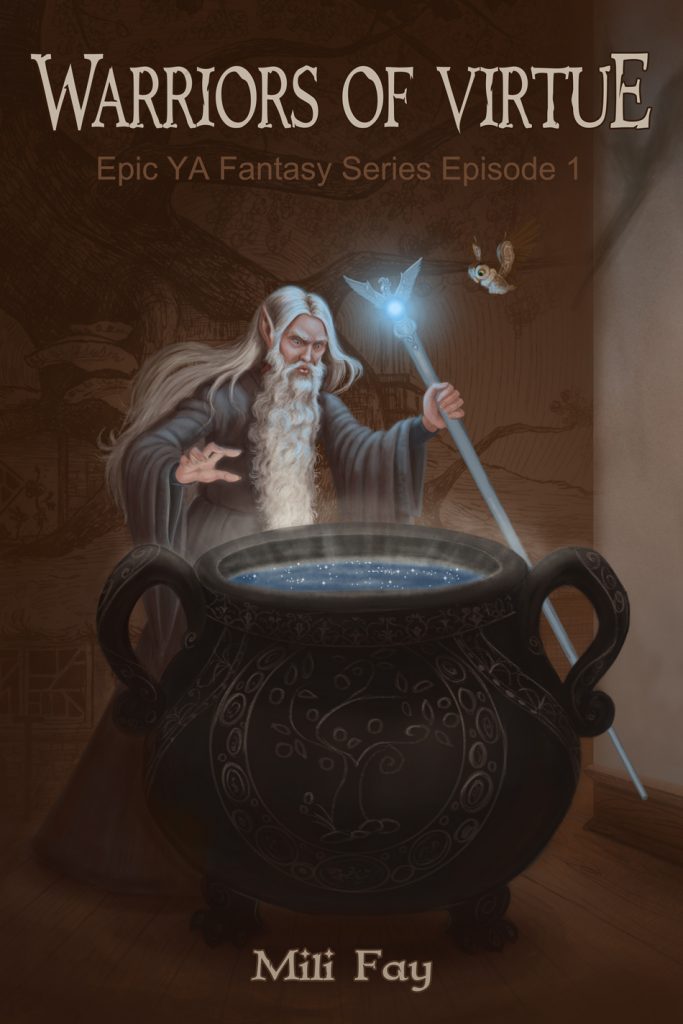 Episode 6 Coming Soon! Delayed due to editing.
---
Advanced Reader Copies (ARC)

WARRIORS OF VIRTUE
Review Crew
Read Warriors of Virtue Epic YA Fantasy Series for free in exchange for honest feedback. If you are a fan of The Lord of the Rings, Sailor Moon, Avatar: The Last Airbender, Chronicles of Narnia, fairytales, and mythology I believe you will enjoy this new fantasy series.
---
Warriors Of Virtue Gallery
© 2014 – 2018 Mili Fay Art
---
Go beyond the YA fantasy series; join me as I create Warriors of Virtue and discover the world of Ardan beyond the published text.
---
Publishing Format
In 2015 I've decided to publish the story digitally, not as a book, but as a fantasy series. I've decided on a format of episodes, each of which will consist of approximately three chapters. In this way, instead of waiting years for the series to be completed, readers will be able to read a new episode every month*.
Warriors of Virtue will be published electronically as follows:
Text Edition is the lowest cost option and will feature no illustrations. Price: $0.99**
Artist's Edition will include a PDF/JEPG of the signed full-resolution cover art. Price: $2.99**
If there is public interest, Mili Fay will illustrate the entire series to create the Illustrated Edition (Price TBD), and will provide all the artwork in the Illustrated Artist's Edition (Price TBD).
Once the series reaches its conclusion a Hardcover Edition of the series will be created for interested readers via a Kickstarter campaign.
---
Mili Fay | January 29, 2019
*Frequency of publication will depend on the promptness of my editor.
**Prices are in US Dollars.