Is there a moment, a memory, a dream you wish you could relive? In a nutshell,
that
is my specialty. Beyond copying a photograph, I can illustrate what is in your heart. For example, for a couple's wedding portrait I painted a memory of how they met. (You can see the portrait
here
.)
Below you can find more information regarding the four categories I work in, commission status, pricing, as well as the contact form.
Museum Quality Portraits
Acrylic (and sometimes pencil crayon) on canvas or watercolor paper. This is the highest-quality of portraiture on offer. Each portrait is painted in glazes, creating an illusion of life and depth invisible on screen. Size measurements are in inches.
>> Skill Progression Through The Years >>
Watercolor Portraits
Other than stained glass, in my experience, no other artist's paint is as luminous as watercolor. I use only the high-quality, artist's materials so that (with proper care) these apparently fragile paintings can last lifetimes.
Art Nouveau Storytelling Portraits
Combining Mucha's inspirational Art Nouveau style with symbolic storytelling, these portraits go beyond capturing an image. Each painting captures a unique memory.
Simple Background
This portrait is a bust, including simple background elements. Acrylic, watercolor, and ink on Borden & Riley's Rag Drawing Paper #627. Size: 11 x 14.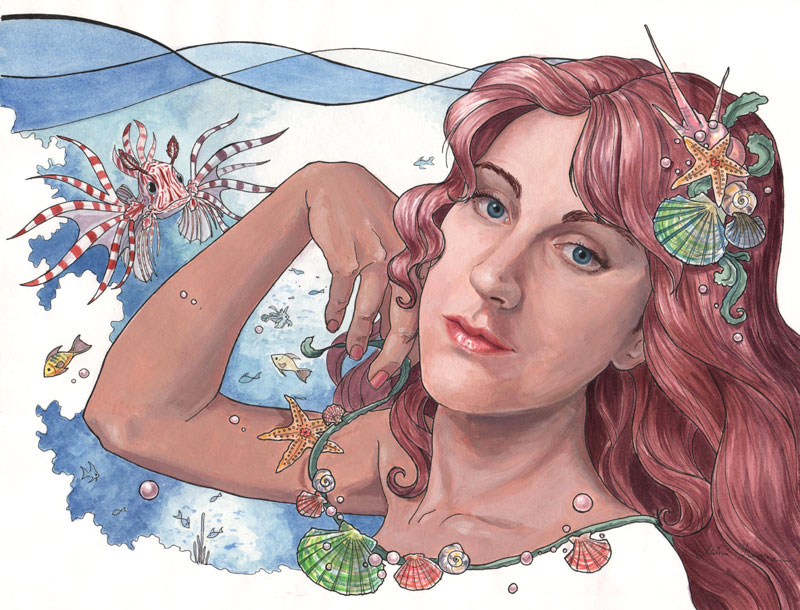 Simple Background Landscape
Self-portrait created in 2008 for an art competition. Acrylic, watercolor, and ink on Borden & Riley's Rag Drawing Paper #627. Size: 14 x 11.
Creative Portraits
If you could be anyone, other than yourself, who would you be?
These watercolor and ink or digital portraits can transform you into any character or creature you wish. I can create an avatar for your website and Social Media, D&D or other role-playing game, or a fun portrait of yourself or your loved one.
#ToonMe
Show your alter ego.
These quick, fun digital paintings cost only US$50. You provide the photo, and I will paint half of your portrait as whoever you wish: a cartoon character, and illustration, or a more realistic portrait set in the time period of your choice.
Commission Status
Commissions are closed until further notice. To get on the waiting list please CONTACT ME.
Pricing
The price of each portrait depends on the size of the finished work, the number of subjects, the complexity of the background elements, and the materials used.
Below is an estimate based on materials used for a portrait containing one subject with background. However, please note that multiple subjects, complex backgrounds, and special materials like gold leaf or expensive, specialized paint will cost extra.
PRICING ESTIMATE:
Pencil on Paper — US$ 9.00/square inch
Watercolor or Acrylic on Paper — US$ 10.00/square inch
Acrylic on Canvas — US$ 12.00/square inch
NEW! Mili Fay Art's #ToonMe — US$ 50.00
For a personal quote, please describe what you are looking for in the form below and let me know your budget and deadline.
*Password Protected
This website was created in November of 2019 by Mili Fay using the Divi Theme from elegantthemes.com.
Website design and all original artwork © Mili Fay Art. All rights reserved.